Heart of the Fading Sun
Follow a group of misfit group of travelers, in this GM-less story-game, as they deliver a love letter from the moon to the dying sun, reinvigorating it so that it might burn for another 1,000 years.
Repeate the trip every millennia to keep the sun shining on the world and explore what has changed in the passing years.
Heart of the Fading Sun is designed to be printed, double-sided, on letter paper so that the map the travelers follow is unveiled as the story progresses. Choose new branches on subsequent journeys to explore new locations and mark up the map to note details changes you discover. Customize the map and the world as you play, you groups map will be different from anyone else's!
Purchase
In order to download this game you must purchase it at or above the minimum price of $2 USD. You will get access to the following files:
Heart_of_the_Fading_Sun-V1.pdf
8 MB
More Ways to Get the Game!
Support this game at or above a special price point to receive something exclusive.
Heart of the Fading Sun in an Envelope
A labeled manila envelope containing print outs of the rules and map sheets.

Sits nicely on your game shelf, ready to be played. Perfect for containing in-progress games between sessions!
Just add players, pens, tokens, and dice!
Shipping restricted to the U.S.
Game in an Envelope excluded from any sales or bundles.

Includes:
9"x12" manila envelope with label
3 pages of rules
4 pages of maps
PDF copy of the game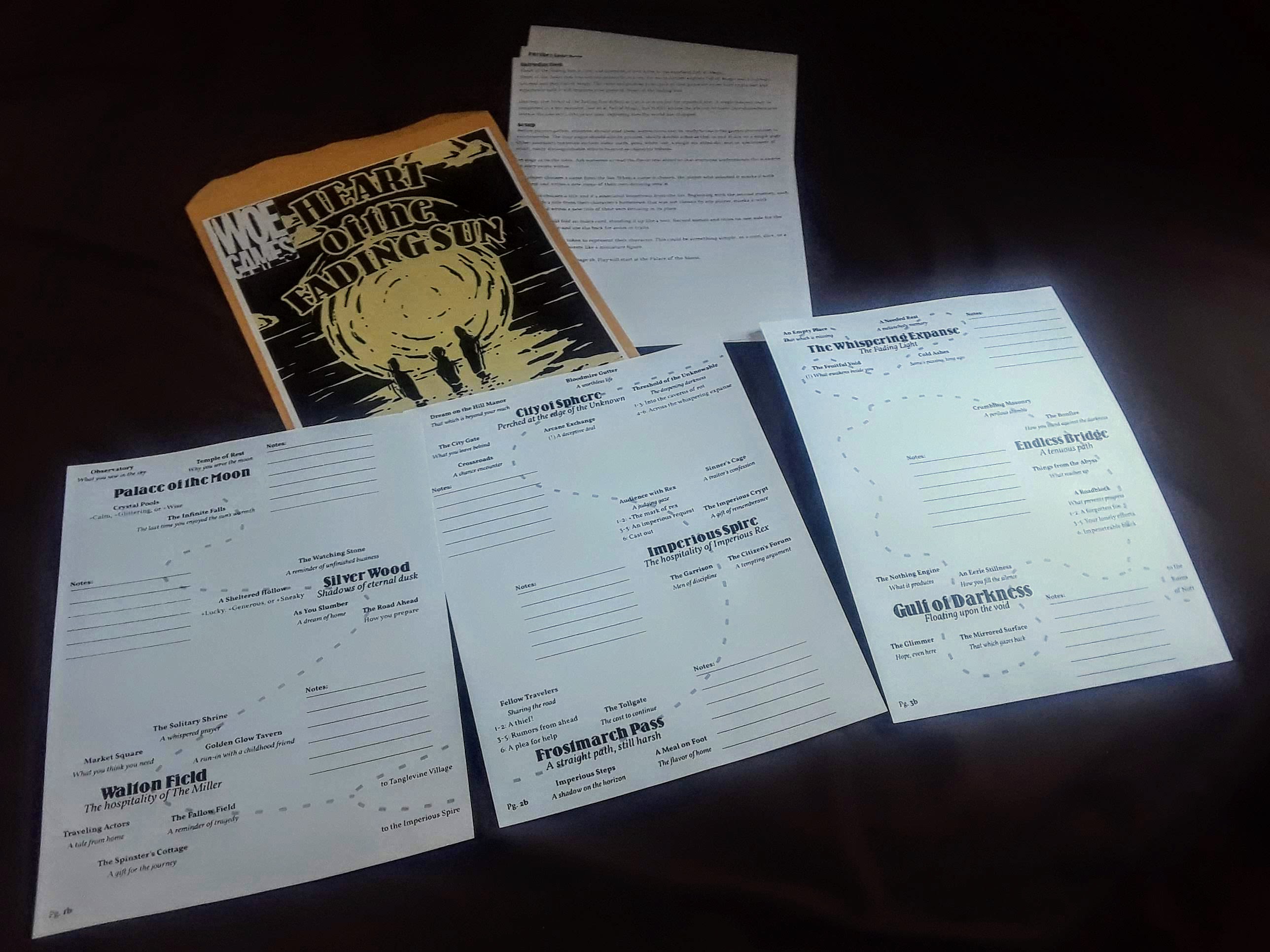 Community Copies
Want to play Heart of the Fading Sun but are unable to due to financial hardship. Claim a community copy and enjoy! If you like it, a rating or review would help me out.
Want to help make more copies available? For every copy of the game purchased at full price, I'll add another community copy.